Support Resources for your Business Dreams
The Ozarks Small Business Incubator is here to serve business owners and aspiring entrepreneurs in all stages of development, from an idea, to support after launching. Starting a business is a big task, and we are the area's go-to resource for support. OzSBI offers free one-on-one mentoring, workshops for every level of development, a multitude of excellent networking opportunities, and space to start and grow your business.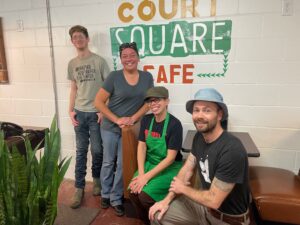 For those who are researchers at heart, this page contains a goldmine of critical information about how to start a business from the idea stage through the launch stage. Those who prefer hands-on support (or a combination of both!) might consider starting with our Smart Start: Developing a Successful Business workshops. These free workshops are held once a month and are an excellent starting point for your entrepreneurship journey. Be sure to keep an eye on our events page to see when the next Smart Start workshop will be held.
How to Start a Business in the Ozarks
Write a Business Plan – A written plan or summary can be a guide as you start or run your business. It allows you to put your ideas down on paper, challenges you to think through the big picture, and provides direction for moving forward. Your plan should continue to grow and expand as your company does. To get started on your business plan, please consider attending our Launch U Informational seminar.
Become an OzSBI Client – Starting and running a business requires a lot of your time and energy. If you have a business idea or are already in business, let OzSBI help you to the next level of success. You can get help preparing a business plan and securing financing to expand or relocate your business
Finance Your Business

OzSBI Microloan Fund – OzSBI has a revolving loan fund from which it can make loans of up to $50,000. This can be used as a secondary loan (gap financing) to supplement a bank loan or other start-up capital. While OzSBI reviews each loan application carefully, we are less stringent in our requirements than traditional banks.
U.S. Small Business Administration – SBA offers a variety of small business loan programs for very specific purposes.
New Growth Capital – New Growth Capital offers a START HERE Revolving Loan Fund to startup and existing businesses that are unable to find traditional financing.

Determine Your Legal Structure – When beginning a business, you must decide what form of business entity to establish. The form of business you choose will have legal and tax implications, so choosing the correct form is important.
Register Your Business Name – If you choose to name your business anything other than your own personal name then you'll need to register it with the appropriate authorities. This process is known as registering your "Doing Business As" name and requires you to create and register a fictitious name with the Missouri Secretary of State
Get Tax ID # – An Employer Identification Number (EIN), also known as a Federal Tax Identification Number, a nine-digit number that IRS assigns in the following format: XX-XXXXXXX. It is used to identify the tax accounts of employers and certain others who have no employees.
Register for State and Local Taxes

State of Missouri Taxes – Your tax requirement depends on the legal structure of your business. For example, if your business is a Limited Liability Company (LLC), the LLC gets taxed separately from the owners, while sole proprietors report their personal and business income taxes using the same form.

For local tax obligations, contact the City Hall or Chamber of Commerce in your area.

Obtain Business License and Permits – Federal and state governments require business owners to obtain certain license and permits to be legally operating business. Make sure you have all the necessary permits.
More Resources
Please review these links about starting and running your business. The list is not all inclusive, but can give you additional information to help you start and run your business. Once you have looked over the links, please contact our office at 417-256-9724 or info@ozsbi.com for a free consultation to address any questions you may have.
Business Basics:
If you're starting a business, start by researching these websites
Registrations, Licenses & Permits:
Learn how to register your business and what licenses and permits are required
Legal Structure:
Choose what legal structure is right for your business
Finances & Loans:
How to locate the money you need
Tax Assistance:
Business taxes don't have to be scary
Customer Service:
Learn tips that help you excel
State, Local, and Regional Resources
The Ozarks is rich in business resources to help you achieve your goals. Unless otherwise noted, the following all work with businesses in the entire OzSBI 7-county region. Here is a list of those who work with OzSBI:
Missouri Business Resources
Industry Resources
Regional Business Reports
Event Training Calendars
Chambers of Commerce
Many towns in our 7-county region have a Chamber of Commerce. These offices can be a rich source of local information. Be sure to talk to yours. A few are listed below: