Need an office?
Hold your next business meeting in one of our 3 meeting rooms. Need an office for the day? We offer daily office rentals too. OzSBI meeting rooms are available for rent to the public for business purposes. We offer professional space for board retreats, training, or to meet with a potential client. Our space is also ideal for companies wanting to test the local market before opening an office in West Plains.
Available Meeting Rooms
Board Room
Member rate: $30 for half day / $50 for full day
Non-Member rate: $50 for half day / $75 for full day
The Board Room seats 12 comfortably. The room is equipped with an LCD television with an HDMI hookup, 2 whiteboards, and a kitchenette with a coffee bar. The tables can be set up as one large conference table or as individual work areas.
Conference Room
Member rate: $85 for half day /$110 for full day
Non-Member rate: $110 for half day / $150 for full day
The Conference Room at OzSBI seats 70 in chairs or 40 with tables (which can be removed if not needed). It is equipped with a ceiling-mounted computer projector, a pull-down screen, 4 whiteboards, and a coffee bar. An acoustic folding wall can divide the large room into two smaller rooms.
The Hangar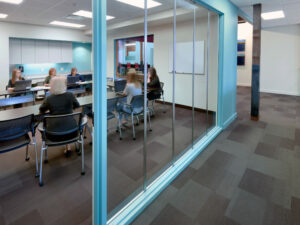 Member rate: $60 for half day / $90 for full day
Non-Member rate: $110 for half day / $125 for full day
The Hangar is our most modern meeting space, complete with bright colors and a glass wall. It seats up to 12 people and is equipped with a 65-inch smart TV with AVG connections. There is a small kitchen nook with a coffee bar and one whiteboard. The glass wall can be used for additional whiteboarding. Note that The Hangar is located on our second floor and is accessible via stairs or elevator.
Office by the Day
Rate varies depending on room selected
Office by the Day is an option for traveling business people or companies without a local permanent address. Individuals may rent a large or small office for a daily rate. Contact us for details and availability.
Meeting Room Calendar
Use the calendar below to see if your desired room and date/time are available. If so, complete the Room Reservation Request form to initiate your reservation.
Room Reservation Request